Biography
Mr. Phuoc founded TLS law office (precursor of Phuoc & Partners Law Firm) in 2003. Before that, he served as Deputy Manager of the Tax & Legal Department of PricewaterhouseCoopers and KPMG, two of the big four international accounting firms in the world for more than 6 years and Managing Partner of Luat Viet Legal Consultants, a leading Vietnamese law firm for almost 2 years. After that, he founded Phuoc & Partners Law Co., Ltd and acted as Director cum Managing Partner.
Mr. Phuoc earned his Master of Laws (LLM) in the International Trade Law at Bristol Law School (UWE), a Bachelor of Laws (LLB) from the General University of Ho Chi Minh City, Vietnam, and a Bachelor of Arts in languages (English) from the Pedagogical University in 1996. In addition to his legal background, he has also studied the Qualification Course and received accounting and tax certificates of ACCA (Association of Chartered Certified Accountants) which is the world's largest global professional accountancy body based in the UK.
Mr. Phuoc is the partner and group leader of the firm's Tax and Labour & Employment practices, with more than 20 years of legal practice experience. In the area of tax, Mr. Phuoc focuses his practice on transactional tax planning for a broad range of industries and business entities. Mr. Phuoc regularly drafts, reviews, and negotiates the tax provisions personally with a full range of corporate documents, including merger and acquisition agreements, legal opinions, and employment agreements. Mr. Phuoc also advises corporate clients on general tax compliance issues, including employment taxes, tax accounting, and consolidated tax returns. For the labour & employment practice, Mr. Phuoc counsels clients on a variety of labour and employment issues, including compliance with the labour laws of Vietnam, employment practices and policies, structuring the workforce, labour and employment implications of mergers and acquisitions, hiring, firing, and retrenchment. He has represented clients before district and provincial labour agencies and courts in a broad range of employment litigation matters (these include, but are not limited to employment discrimination cases, trade secrets, and non-competition agreement disputes) while also providing counselling in connection to human resources and benefit-related decisions.
In the early 2010's, in addition to his in-depth technical knowledge and leading experience in the tax and labour & employment practices, Mr. Phuoc developed and managed a new marriage and family law practice in Phuoc & Partners. The marriage and family law practice now ranges from divorce, visitation, community property divisions, prenuptial and post-nuptial agreements, child custody, child support, will, and inheritance. Mr. Phuoc has also developed substantial trial experience in representing entrepreneur and showbiz related individuals and foreigners entangled in marriage and family law disputes, both in and out of court.
From 2006 through now, Mr. Phuoc has been named one of the leading Vietnamese lawyers in the field of tax and labour by Legal500, Chambers Asia, and ALB based on the views of clients, peers, and other industry professionals. Particularly, Legal500 noted that "Managing partner Nguyen Huu Phuoc is particularly good, being knowledgeable about local laws, a good communicator, and quick to respond."
Mr. Phuoc has spoken at numerous professional and business seminars on the subjects of tax, labour & employment law, and the practice of law including events organized by HKBG, EuroCham, Vietnam Chamber of Commerce and Industry (VCCI), and the Bar Association of Ho Chi Minh City. He is also the author of numerous articles related to his specialty, and regularly contributes to journals focusing on tax and labour law as well as law practices in Vietnam. Mr. Phuoc has also been interviewed many times on daily newspapers/TV on tax and the labour laws of Vietnam as well as his experiences of practicing law.
Regarding the publication works, Mr. Phuoc is the author of 06 books on administration and law, civil code, and labour code, including:
Start-up Guide with the Lawyer Profession (published by Phuoc & Partners in 2016 and was reprinted for the first time in 2017);
Family and Individual Legal Manual (published by Phuoc & Partners in 2018 and was republished in 2020);
Labour Law Booklet (published by Phuoc & Partners in 2018);
Labour Law Compliance Handbook (published by Phuoc & Partners in 2018);
Hard-to-Find templates of human resource(published by Phuoc & Partners in 2019); and
Ask Whom When facing Difficulties in Divorce (published by Phuoc & Partners in 2020).
In addition to this, he is also the co-author of 02 lawyer practicing skill books, namely:
Lawyer Handbook (published by the Lawyer Federation of Vietnam in 2018 and re-published in 2019); and
Teaching Book of Lawyer Practicing Skills (published by the Juridical Academy of Vietnam in 2019).
Furthermore, Mr. Phuoc had contributed his valuable time to translate two human resource books including:
Correct Human Resource Management (published by VNHR in 2019); and
Clever Human Resource Management by data (published by VNHR in 2019).
Professional Memberships
Member of the Executive Committee of the Vietnam Human Resource Club(VNHR), in charge of labour law consultancy to VNHR members;
Member of the Executive Committee of the Vietnam Association of Corporate Directors (VACD) – in charge of the legal consultancy for VACD members;
Vice chairman of the Chief Sales & Marketing Officer (CSMO) Club, in charge of providing legal advices to CSMO members;
Member of Vietnam Business Lawyers Club (VBLC);
Accession to Bar Association; and
Member of the Bar Association of Ho Chi Minh City, Vietnam.
Summary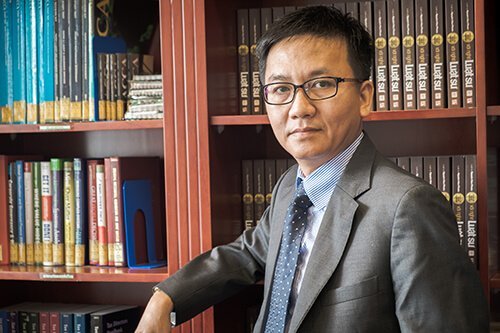 Name
Website
Job Title
Director & Managing Partner
Address
70 Quoc Huong

,


Thao Dien

,

District 2

,

700000