At Phuoc & Partners, we acknowledge women's role in the legal consulting profession, not only their qualities and abilities but also the fact they often face several unique challenges in their career. We assist female lawyers to achieve success by fostering a supportive environment which meets their needs and gives them equal opportunities for development, promotion and leadership in the firm. The management body at Phuoc & Partners has implemented a number of initiatives to promote opportunities for women in our network of offices.
Notwithstanding certain cultural differences in each region, all offices offer a professional and friendly work environment for female lawyers and staffs. At Phuoc & Partners, several women's initiatives are already in place including the use of internal and external models; development training, job networking within and outside the firm; special events; implementation of health care; leadership training and flexible policies that connect with our belief in the importance of achieving a balance between work and life.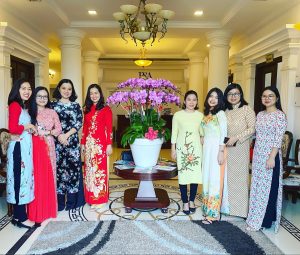 Guidance, Development and Leadership
At Phuoc & Partners, we believe in mentoring and guidance for continued success in women's careers – there are group guidance programs conducted within the firm and several other development opportunities for women including internal and external seminars, presentations, meetings and discussions on pertinent women's issues in the workplace.
The training program at Phuoc & Partners focuses on helping young lawyers develop the skills necessary to achieve the best possible results at work. Our programs include having regular discussions and training sessions in communication, management, leadership and business development for women.
We are committed to providing more leadership opportunities for women at Phuoc & Partners. We currently have a female partner who is also a managing lawyer and several other women lawyers who are experts in a number of different fields.
Networking and Other Events
The firm organizes several receptions, workshops, programs, meetings and other social activities in and outside the firm network such as lunches and dinners for the female lawyers on women's events such as the International and National Women's Day on 8 March and 20 October. In addition, we sponsor our female lawyers wishing to participate in other women's networking events organized by external organizations.
Balancing Between Work and Life
At Phuoc & Partners, we make every effort to help the lawyers achieve a balance between their career aspirations and their family obligations through flexible working time policies, supportive part-time jobs, maternity leave and child care policies.
Women at Phuoc & Partners receive full benefits during maternity leave.
Community support
Phuoc & Partners provides pro bono legal services for women who cannot afford to hire a consulting lawyer. We represent women in domestic violence cases, labour disputes as well as assisting them in filing lawsuits and performing associated tasks at the local Bar Association.
We encourage all members of the firm to join in community projects. Many of our lawyers have given much of their time, effort and in some cases financial support to ensure that all the benefits of life are also conferred upon women.